Penfield Blog Description
Visited 682 times , 1 Visits today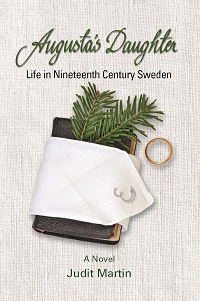 For ten days in October we hosted Judit Martin, author of Augusta's Daughter: Life in Nineteenth Century Sweden. This beautifully written novel dramatically highlights the immigration of many discriminated Scandinavian women to America. Judit, an American has lived in Sweden for forty years. This book is carefully researched. What happens to Augusta and her daughter actually happened to someone historically.
A retired engineer sent us this tribute after he read the book.
"Joan –  I just finished reading Judit's book, and as you can tell from the short time since we acquired it, it has consumed a great deal of my time.  I have read a lot of books, but very few as moving and as captivating as Judit's book. I think I lived every page, and it will take a time for me to get over it. If you will send Judit's address I'd like to write to her. Thanks for again bringing someone into our lives who rises far above the ordinary."  D. H. 
In an earlier endorsement, Jan Smedh, bookseller at The English Bookshop in Uppsala and Stockholm wrote: Wonderful and evocative! A captivating and enlightening read!"
Augusta's Daughter, first in a series, is available from Penfield Books, and two Amazon companies: Createspace and Kindle as an Ebook.
Augusta's Daughter ($21.95) fills a needed historic nitche between the Swedish authors Fogelström and Moberg. To order from Penfield Books call 1-800-728-9998.