Penfield Blog Description
Visited 768 times , 1 Visits today
Dear Friends,
Joan offers a powerpoint presentation of the photos from her autobiography book, Pictures and People, and insights to the era from the 1950s to 2011. Martha Booth writes, "Thank you so much for taking time out of your busy schedules to speak to our Optimist Club, about Pictures and People: A Search for Visual Truth and Social Justice. Your journey is an inspiration to us all and your presentation was very well-received. I never tire of your many stories and your photos that exemplify your love of humanity and this earth we inhabit. You are a joy."
We are pleased to announce that Pictures and People: A Search for Visual Truth and Social Justice has been picked as a finalist in the USA "BEST BOOKS 2011" Awards.
Click below for full version: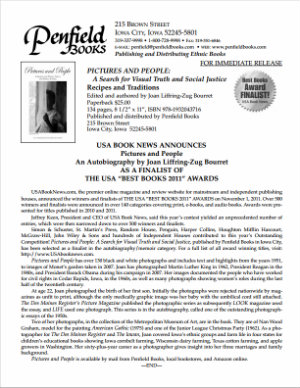 Please call our office to schedule a powerpoint presentation of Pictures and People in Eastern Iowa.
We have spent most of the summer and fall developing new titles. A special one is a revision of a little booklet we brought out many years ago: Scandinavian Christmas. This $14.95 book is 6×9″ with color covers inside and out, new text and photographs of celebrations across America. We included photographs from: Philadelphia; Minnesota; Decorah, Iowa; Lindsborg, Kansas: and the waterfront village of Pousbo, Washington. St. Lucia is alive and well in all of these places. The cover is a charming Sami Santa carving by the renowned Harley Refsal of Decorah, Iowa.
Jennifer Braverstäm has completed the translation of Remember the City, third in a series of Swedish novels by Per Anders Fogelström. This series is a best seller in Sweden. This $21.95 book will be available by early December. An e-book will follow soon. The fourth book is currently being translated.
Laura Gentry, nationally known as Laughing Laura, has a sweet little stocking stuffer sized book called, "The Little Book of Big Laughs." It is available for $9.95. She offers programs of Laughter Yoga to groups, companies, and corporations. This fall, Rev. Laura and her husband Rev. William Gentry are going to South Africa for the first International Laughter Yoga conference. Laura will be presenting at the conference located in Durban, South Africa. It is the fifth continent on which she has presented laughter yoga. Her latest CD has just arrived, Yule Laugh and is listed at $14.95. It features music from Luther College in Decorah, Iowa.
Polish Touches, a new revision is listed at $19.95 and will be available early December, 2011. The front color cover features Polish dancers courtesy of the Lira Ensemble based in the Chicago area. The back color cover features the Dolina Polish Folk Dancers based in the Twin Cities. Photograph courtesy of Krzysztof Oszast.
Developing these new titles plus writing my own autobiography, Pictures and People: A Search for Visual Truth and Social Justice,has filled a busy year. We have also converted approximately 70 of our books to e-books on Kindle. We would also ask that you join us on facebook for the latest updates. www.facebook.com/penfield.books
May you all have happy holidays, particularly with great Scandinavia cookies. Note we offer 2012 calendars by Carl Larsson ($12.95) and Paulstad calendars from Norway and Sweden ($12.95 each).
Best Wishes for a new year!
Joan Liffring-Zug Bourret and her office helpers
John, Deb, Annie, Connie, Whitney, Dwayne, and more!