Penfield Blog Description
Visited 725 times , 1 Visits today
Dear Friends,
June 5, 2013
Award News for Penfield Books
The Amana Landscape
Photography by David B. Heusinkveld, Amana
Text by Peter Hoehnle, Amana
Graphic Design by M.A. Cook Design, Cedar Rapids
Published by Penfield Books, Iowa City
The Amana Landscape, was a finalist in the 2013 annual Benjamin Franklin Awards contest of the IBPA (Independent Book Publishers of America). The awards ceremony was held in New York City on May 29. Photographer David Heusinkveld, his wife Carol, and their son Forrest Heusinkveld attended to accept the award. David B. Heusinkeld, a retired special education teacher, became a nature photographer after a life-changing accident almost ten years ago. His photographs have been exhibited at the Amana Heritage Museum, the Cedar Rapids Museum of Art, and the Englert Theater. They have also been published in state-wide media. Peter Hoehnle, historian, has received honors for his historical writing, particularly about the Amana Colonies of Iowa. This is the second time a Penfield Books publication has won honors from IBPA. In 2012, Pictures and People: A Search for Visual Truth and Social Justice by Joan Liffring-Zug Bourret received the top award for her autobiography.The IBPA is a not-for-profit trade association that has served independent publishers for over 25 years. Both Bourret's autobiography, Pictures and People, in 2011, and The Amana Landscape, in 2012, were national finalists in the USA Book Awards contests. Additionally, The Amana Landscape received a silver award in the regional category of the IBPA Benjamin Franklin Awards contest. The Amana Landscape was also a winner in the nature category in the 2013 National Indie Excellence Book Awards contest. The competition for these awards is judged by independent experts from the independent book industry, including writers, editors, publishers, and professional copywriters who select finalists and award winners based on overall excellence of presentation in addition to the writing.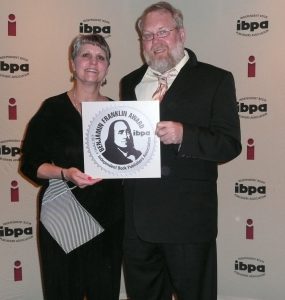 Carol and David Heusinkveld in New York
accepting a Benjamin Franklin Award
====================================================
We received a wonderful letter from Sweden about our new release of The Short Stories of Hasse Z, translated by Paul Goldsmith.
====================================================
From: Hannes Tjerneld
Date: 26 December 2012
"Hello Paul!
My whole family and many friends express their admiration for your achievement to have Hasse Z published in the U.S. My cousin Charlotte, eldest daughter of Hasse Z´s son Erik, called me and said that I never believed it would be possible and so suddenly finds the book on Amazon. I admire your knowledge, experience and contacts which have helped you to do this. I could have never imagined that Hasse Z—57 years after his death—should appear on the Amazon world wide list! Amazon is big here and used by a lot of people as this is an English-speaking country.
Thank you for your nice words in the foreword!
It would be nice to have a couple of copies, but I will, under all circumstances, buy some from Amazon to use as gifts to relatives and friends.
Kindest regards and a Happy New Year!
Sincerely, Hannes
======================================================
This book, Favorite Swedish Stories of Hasse Z contains amusing short stories and retails for $14.95 US, available from Penfield Books (www.penfieldbooks.com – look under Swedish titles), from Bergquist Imports, and Amazon.
In addition to this title with Swedish folk art by the late Helen Blanck, we also released two short story books by Judit Martin. One is The Bridge, retails for $8.95, is about life in the Loften Islands of Norway. A larger title, Swedish Portraits, which retails for $14.95, profiles Swedish people. Judit Martin is the author of Augusta's Daughter, a novel released last October. Judit is now writing a sequel.
Our happiness of spring is that my son David Heusinkveld's book, The Amana Landscape, is one of three finalists in the annual Benjamin Franklin contest in the Regional Division. David, his son Forrest, and his wife Carol, will attend the reception in New York City. None of them have been to Manhattan. We will know later in May if they bring home the gold. My own title, Pictures and People: A Search for Visual Truth and Social Justice won the gold medal in this contest in 2012 for autobiography.
Pat Martin's new book Czech Touches, retails for $18.95 was a finalist in the Midwest Publishers Association 2013 contest.