*
Canadian Cuisine: Recipes and Sites
Retail: $8.95
ISBN: 9781932043983
Dimensions: 3 1/2 x 5 1/2 inches
Pages: 178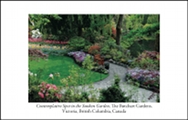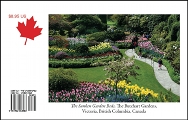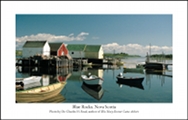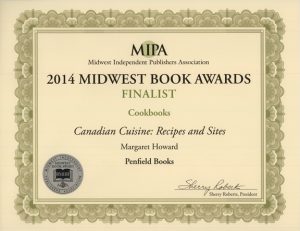 Canadian Cuisine: Recipes and Sites has placed as a finalist in the 25th Midwest Book Awards through Midwest Independent Publishing Association. http://www.mipa.org/midwest-book-awards/25th-annual-book-awards-finalists
Congratulations Margaret Howard on your award. Margaret is a Canadian home economist and former dietitian. She has written this ethnic cookbook Canadian Cuisine: Recipes and Sites featuring ninety-five well-tested recipes accompanied by photos, illustrations, and regional information about Canada.
Originally, Canada was a bilingual country made up of French and English people, however, today they are enriched by many ethnic groups making a blended population. Because of this wide diversity of more recent ethnicities, she has added a variety of recipes representing a diverse and exciting cuisine.
We are pleased to include recipes of French, Scottish, English, Irish, German, Italian, Hungarian, Scandinavian, Greek, Eastern Slavik (Ukrainian, Polish, and Russian), Caribbean, and Mediterranean (Portuguese and Spanish) origin. These cultures have added greatly to the Canadian culinary scene. Also, we have included recipes consisting of Canada's agriculture and First Nation's population such as: wild rice, venison, bison, wild geese and other birds, and berries as well as recipes that include wonderful freshly caught fish.
The contents of Canadian Cuisine: Recipes and Sites contains appetizers, morning starts, mid-day soups and salads, main courses including poultry, vegetables, beef, pork, lamb, game, fish, and seafood, side dishes, desserts, beverages, a listing of recipes, and a kitchen conversion chart.
In 2006, she won the OHEIB (Ontario Home Economist in Business) Hall of Fame Award and she is an author of numerous cookbooks. During her business career, she was Consumer Services Manager at Thomas J. Lipton in their Canadian offices in Toronto. This included managing the test kitchen, responsibility for all packaging directions, presenting, and attending cooking schools in Mexico, U.S.A., and Canada.
Margaret is also very involved in her local community and heads up the volunteers for the Hospice Association. She is a member of Ontario Home Economics Association. Her cookbooks promote healthy eating. Married for over 53 years, she has four children and nine grandchildren.
——————————————–
Nova Scotia Seafood Chowder
1 large onion, chopped
3 tablespoons canola oil
1 cup vegetable broth
2 large potatoes, peeled and chopped
1-1/2 pounds boneless fish fillets
1-1/2 pounds scallops
5 cups milk
1/4 cup all-purpose flour
1/2 teaspoon salt
1/2 teaspoon dried thyme
1 cup lobster meat, diced
1/2 pound mussels
Sauté onion in oil in a large saucepan on medium heat for five minutes or until soft. Add broth and potatoes, bring to a boil, reduce heat and cook for eight minutes or until potatoes are almost tender. Add fish and scallops; simmer for five minutes or until fish flakes easily with a fork. Whisk together milk, flour, and seasonings, add to pan and return to a boil; stir constantly until thick. Stir in lobster and mussels, cook for a short time until mussels open. Serves 6 to 8.