*
French Proverbs & Quotations
Retail: $14.95
ISBN: 9781932043921
Dimensions: 5-1/2 x 8-1/2 inches
Pages: 66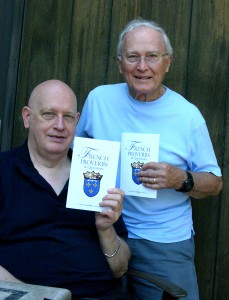 Peter Lucke, left, compiler of French Proverbs and Quotations and Tony Huebsch, at right, photographer.
"How can anyone govern a nation that has 258 kinds of cheese?" asks a French
proverb, one of dozens contained in the new French Proverbs & Quotations.
The proverbs were first collected in the 1867 Polyglot of Foreign Proverbs, which contained
wisdom from a number of European countries. The best of the French quotations —
ones that should appeal to twenty-first century readers — were selected for this collection.
The book has sections on wine and food; finance; love and friendship; human nature;
wisdom; and words spoken by famous French notables such as author Victor Hugo and
former French President Charles de Gaulle.
The book contains photographs taken in France by Tony Huebsch, Jeanne Wright,
John Boswell Hudson, Myrene Hoover, and Joan Liffring-Zug Bourret.