*
Irish Touches: Recipes and Traditions
Retail: $18.95
ISBN: 1932043969
Dimensions: 6x9 inches
Pages: 224

"A drop of Irish blood will make up for all the rest."
This expression—is it humorous or serious? We just know it shows the enthusiasm with which James B. McConville embraces his Irish heritage and "all things Irish."
The author began researching the roots of his McConville and Bradley families when he was in grade school in the 1970s, long before genealogy became fashionable. Reading Irish history has been a passion all his life, and he shares that knowledge in this book.
"A wee bit of all that is Irish" in Irish Touches: Recipes and Traditions includes the history of Ireland, Irish immigration, famous battles, and lists of famous Irish Americans. He teaches the reader how to write a limerick, shares his favorite recipes, and tells us about Irish whiskeys and beers, along with the pubs in which he has sampled them. He shares his favorite Irish toasts and blessings and discusses Irish folklore, the claddagh, and Irish High Crosses. Most interesting is the author's "Irish Travel Highlights."
The Top Ten Greatest Poets and Writers, Dramatists, Sports, and traditional Irish music are discussed, as well as the University of Notre Dame, the author's alma mater, and Irish wolfhounds (yes, he raised one, and named him Barney).
— Patricia McConville Martin
———————————
It was a wonderful occasion…and the people of Centerville were so proud of Brad and glad to be hosted by the Friends of the library…Joan, thanks again, and Deb!!! You are both wonderful. Brad will be sending another order….we did not think we would sell out Saturday.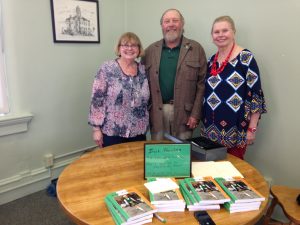 Left to right: Pat Martin, Author James B. McConville, and Joyce Kramer.
Pat Martin has also done several Czech titles available from Penfield Books.